WestSide Boys do Dirty reiver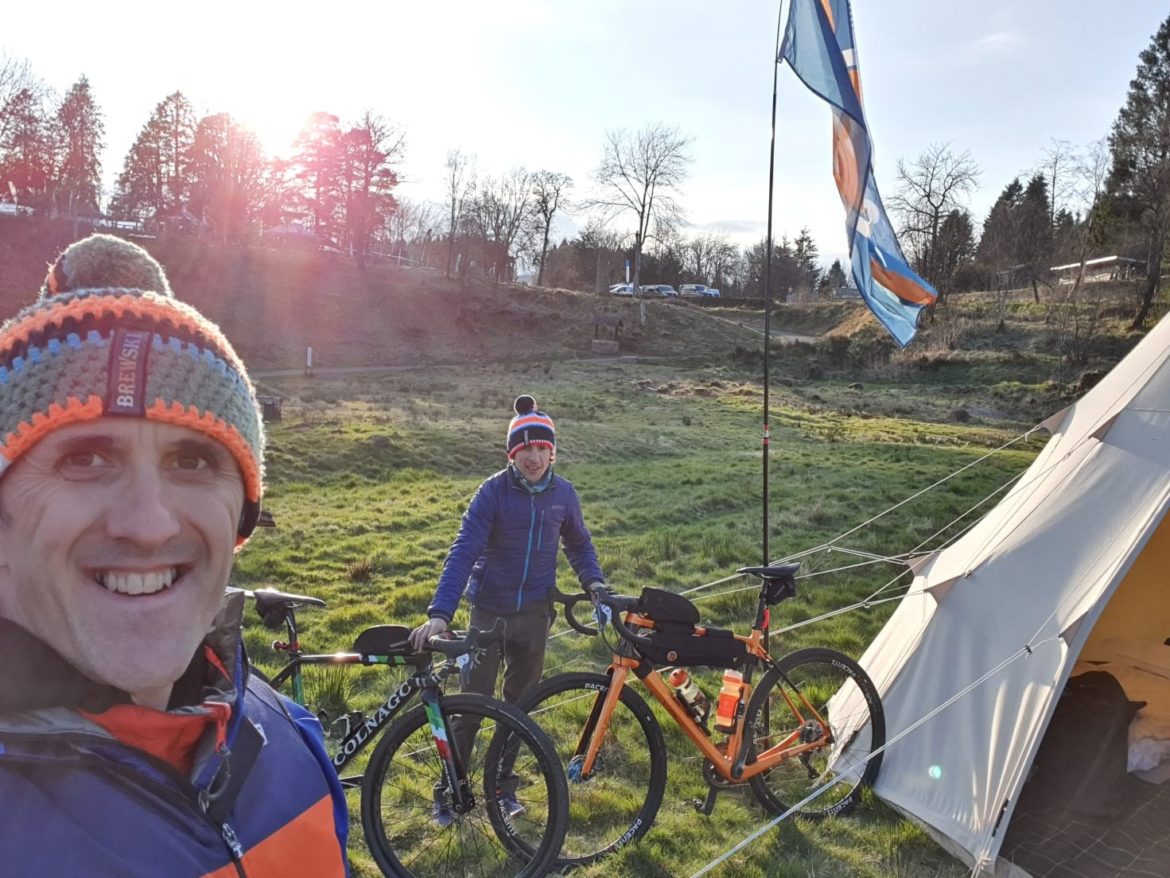 Well it wasn't how I had planned (doing a Dumoulin and an endo) to do my first Gravel event, however it was a great but gruelling experience. Let me recap on what I mean by planned! Earlier in 2019 as in Jan 1st I went out to do some skills sessions on the CX bike ready for the CX Nationals, the session ended up with a broken collar bone (read about that story here), Brewski and I had already planned to do the Dirty Reiver before the mishap, so after a month of sobbing on the sofa trying to console myself for not being National Champ I decided it was high time I got my arse in gear. Cue lots of research, kit, nutrition, course and training needs for the Dirty Reiver.
Kit and equipment
I don't have a gravel specific bike so I was planning on doing the event on my Colnago Prestige CX bike, I managed to squeeze a set of Vittoria Terrano dry 38 mm tubeless tyres into it, I had ridden these tyres previously at Battle on the Beach and I really liked them. They had 22 psi rear and 20 psi in the front for the event, I did hit the rim twice hard on some descents, especially a cattle grid at the bottom of one where I saw several other riders fixing punctures, if doing the Reiver again I'd probably ride 1 or 2 psi more for reassurance but I did like the feel of low pressure on the rocky sections.  I rode my 46/36 double chainrings, I bet you're all rolling your eyes right now, Yes I still like a double and haven't been converted yet to a single. I had a 11-28 cassette on the rear which is my standard cassette for racing CX. In hindsight I would have liked a ratio of close to 1:1 as the amount of climbing in the event was quite a bit, coupled with the fact I have baby watts and some of the rough loose terrain we were climbing made me grind that 28 quite a bit. I was down to 50 cadence on one climb and in the 60's on most. I will go through stats for all the climbs later.
There was a mandatory kit list for the event.
▸ Whistle ▸ Survival Blanket ▸ Waterproof Jacket (taped seams) ▸ Warm hat/Buff ▸ Front light with a minimum 2 hr burn time and at least 200 lumens ▸ Rear light with flashing mode ▸ Mobile phone ▸ Food for the duration of the event ▸ Ability to carry at least 1.5 litres of water ▸ Spare tubes, tools and a pump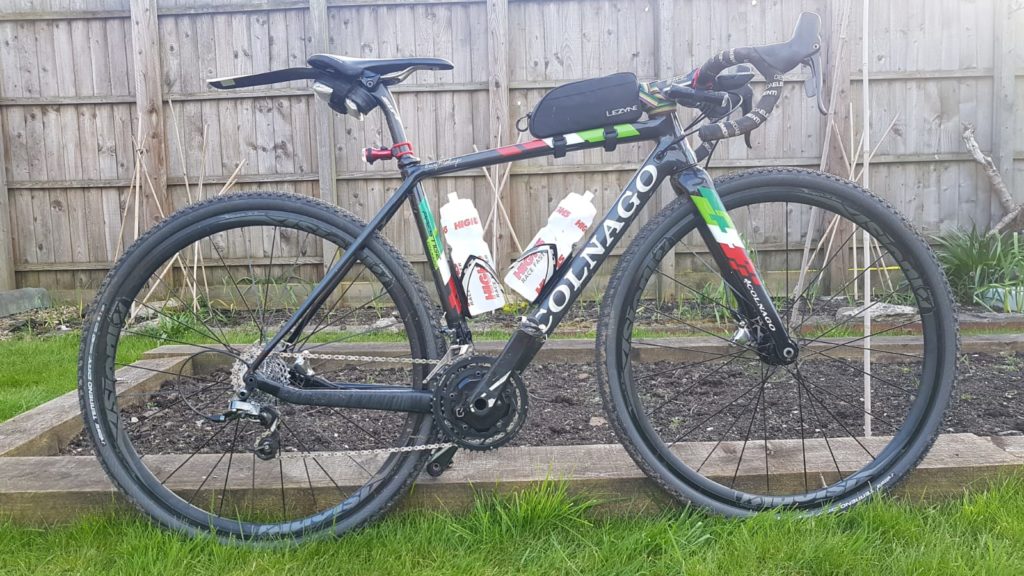 To be honest I wore most of the compulsory kit at the start as it was -1'c on the start line. I had 2 x 750 ml bottles for hydration, my Lezyne XL caddy for extra food, 2 spare inner tubes and a survival blanket under the saddle. I kept the Tubeless repair plugs which I have used previously on my CX tyres and found brilliant in my back pocket along with pump, Lezyne tyre levers, Lezyne mini tool and patches, all from 73 Degrees Bicycles
Course demands and Training Needs

As I was coming back from a broken collarbone my top end was non existent. As the race was meant to be close to 200 km on Gravel and 3,700 metres of elevation gain, I knew I had to have good endurance and be use to plenty of climbing. I mostly did Turbo for my first 3 or 4 weeks once back on the bike (the shoulder wasn't strong enough for outdoor abuse), building it up to 8-9 hrs a week and a single 2.5 hrs on the turbo as my long ride. As my fitness increased I added longer rides outdoors and did big gear sweetspot sessions to help my legs get used to the climbing demands of the event. In the month prior to the race I did a few Nat B road races which I was mid pack fodder and raced the Battle on the Beach a week prior to the event on the CX bike. Although this was a totally different event and demands, I wanted to hit the BOTB full gas and give my bike a good test on the equipment I was going to use.
Nutrition needs
As Dirty Reiver was going to be a long long day, we had 8 hrs as a target time. Nutrition needs were going to be vital to fuel the engine. So I did a lot of experimenting on the turbo practising my max carbohydrate intake per hour, I started off at 60 grams per hour and kept upping it until I hit 120 grams per hour of carb intake. This is where I hit my limit of carb absorption and that sickly bloated feeling in the guts, I then reduced it to 90-100 grams per hour and felt like that was a good balance of getting enough carbs in and not feeling sick. I did this through mixing energy drink powders of different ratios into my 750 ml bottles in training. 
When it came to the event as it was meant to be freezing, I knew I could make the drink mix stronger than intended as I wouldn't be drinking loads due to not being warm enough to sweat. I also took gels with me, some dark chocolate (a staple in my training fuel) sultanas and some energy bars. I worked out how much I'd need to use before the middle feed stop (93 km) which we had planned to stop at. I took this with me and gave the organiser a bag of food with my race number on so I could pick that up at that feed stop to fuel the 2nd half of the ride. I added more energy bars, gels and powdered mix for my water bottles into that feedbag.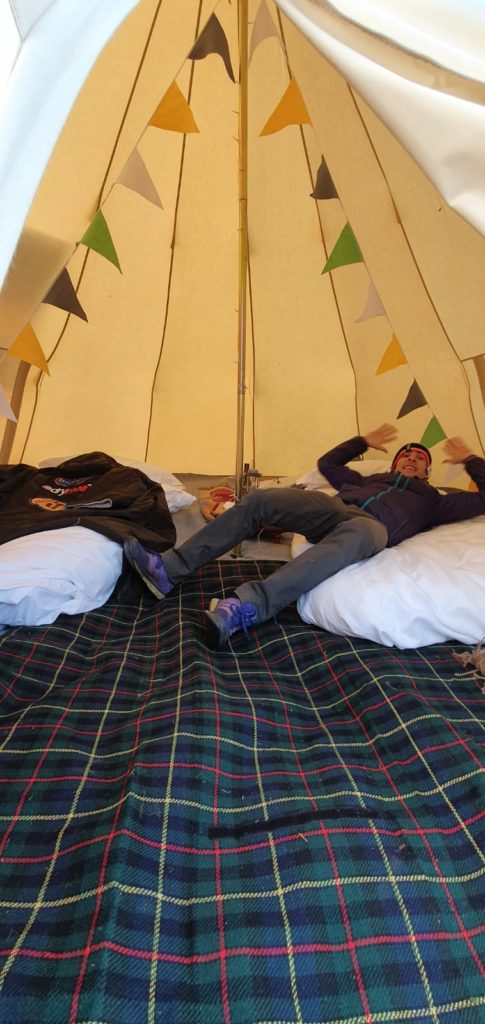 Camping sounded so nice in planning
Kev and I had booked a teepee for the weekend to camp in, little did we know it was going to be -6'c in there when we'd wake up in the morning. We really needed a wood burner, good job I slept under 2 duvets and had the cycling kit I wanted to wear in the bottom of my sleeping bag to try keep warm when I got out of bed.
The ride itself – The Dirty Reiver according to G
We got up in plenty of time to cook some porridge and eggs and get lots of hot fluid down our necks, the issue was how bloody cold it still was. On the start line it was still -1'c. We started off half way down the pack, it took us over an hour to get through most of the people. This is where the cx racing skills came in handy, it was better to get ahead of groups of riders not due to the hills but due to the descents, having a open gravel track in front of you and being able to bunny hop from gutter track to gutter track was so handy especially trying to hit the berms (ditches) on the inside of the bends. Being in a group would have made this dodgy and dangerous.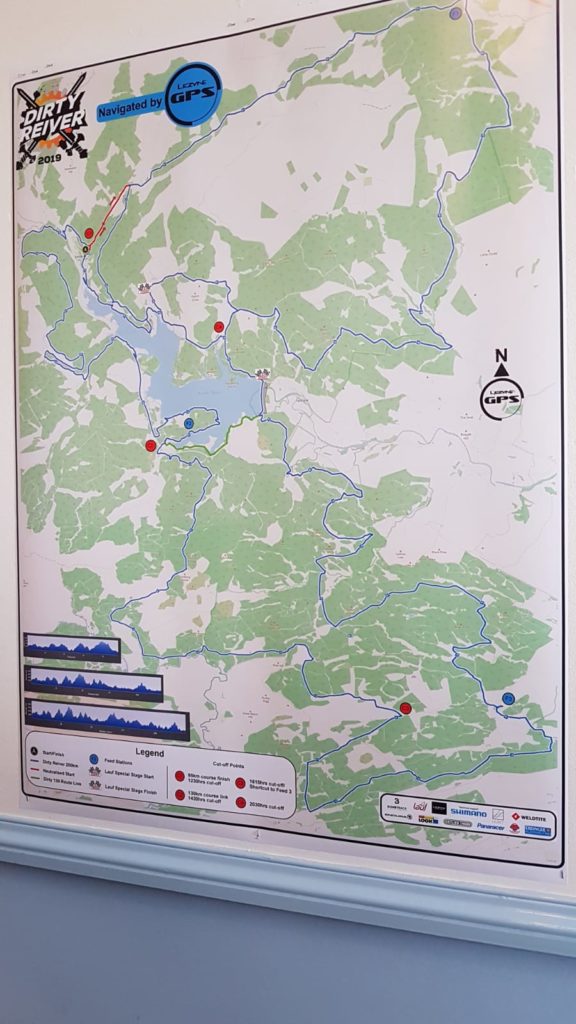 Once we got past the middle feed station where we picked up our feed bag there were big gaps in the field and you would hardly see any other riders in the distance. This is where it felt most barren and where we had a strong headwind, there's nothing quite like a good headwind to kick you in the teeth when you're on your knees, especially as you know you've got 2.5 hrs still left to go. Kev and I had already made a pact before the event to ride together all day as finishing it as a team was more important than individual times, so we did bit and bit for most of the ride, Kev would pull on the flatter sections and I'd pull on the draggy bits and we'd give each other a bit of room on the descents to let it fly and regroup at the bottom. At the last feed station they had a lovely fire going and jacket potatoes which we took full advantage of.
After the last feed it was generally a North Easterly direction back to the finish. This also had a timed section in it. So we had done about 7.5 hrs before we hit the timed section and by this stage we were quite tired so we started it at a comfortable pace, however my Ulcerative Colitis (which had flared up since January) was giving me signs I could not ignore so I had to leave Kev and go full gas, which wasn't much faster at that stage but it helped keep the guts in check. After the timed stage I kept a pretty good pace all the way back to the finish through some single track in the woods which was good fun and headed straight for the toilet once I'd crossed the finish line and was going to explain to Kev after why I left him. I think that was the best feeling I had all day when I entered that portaloo.
Dirty Reiver – 'The other half' – Brewski's meanderings
Unlike Glyn I didn't have a decent excuse for coming into the event slightly under prepared, although I have to admit that knowing my National Hill climb Champ riding partner would not be on tip top form did lower my anxiety a fair bit.
What also helped on the day was that it was 'freakin freezing!!!' and Glyn being the reptilian racing snake type (-10% body fat), took a fair while to warm up !! :-).  Thankfully for me this meant that I didn't loose him early on, as he expertly slithered his way through  the mid pack riders, trying to get some warmth into his muscles, while he was buried under the 15 layers of clothing he had on!!!
What did I learn from doing the Reiver with Glyn ?
He's actually ALOT more caring than he makes out he is, lol,  making me eggs for breakfast , waiting from me on the climbs, and even making up a bed for me in the tent with all the spare blankets from his van (after I neglected to bring a suitable sleeping bag)….o and he also knows what he's talking about!
For those that know Glyn, he does like to analyse things a lot (as you've read), and although I'm not a 'newbie' to long distance events, I had no idea about how much food I'd need. Unlike Glyns optimised grams per hour metrics I aired on the side of caution and took, 2 packs of jelly babies, 4 mini pork pies, 4 gels, 4 bars and a pack of nuuns tablets…….AND left double all this and 2 cheese and pickle sandwiches at the food cache!!!.  (I did however know, from previous experience, NOT to eat a whole normal sized pork pie 3/4 of the way through a 150 Km event, as that can leave you needing an emergency trail side 'mini sleep' as your body redirects all it's focus to the 20 g of fat you've just dumped in your stomach!).  As you can imagine…..it was way too much, and understanding how much and what type of food works for you during long events is definitely worth some fore thought and testing along the lines of what Glyn did.
Also as a 6ft 1 rider, slip streaming Glyn (5ft nothing) doesn't really give me much of a wind break, but the moral support of riding an event like the Reiver with a friend cannot be under estimated. Kielder forest is massive and although wonderfully remote at times, the climbs are long and exposed and you can loose your focus and drive very quickly if you find yourself alone.
I did make an equally good decision with my other riding partner, my Orro Terra C with Schwalbe G-One Bite tubeless (38 mm) which were perfect for the terrain, affording a great balance of comfort and  speed, with good traction on the loose gravelly corners and low drag on the smoother straighter sections (there's literally only about 10 km of road on the Reiver). Owning a fair few different types of bikes, I really think these 'do it all' endurance style of bikes are great and if I had to reduce down to a 'one bike stable' then even my beloved Colnago might have to find a new pilot.
So, what next?
I'm not a big fan of doing events over and over again (life's to short imo), hence other similar events (Gritfest, Grinduro etc) are already filling my 2020 calendar …..but I do know I have found a new riding buddy and you can't get those from your local bike store or order one from amazon.
….looking forward to our next adventure Glyndwr  🙂
Brewski
Stats
The course was shortened to 287 km due to forestry work with 3700 metres of climbing
4800 Kj burnt, 3.1 wpk ave, 3.6 wpk NP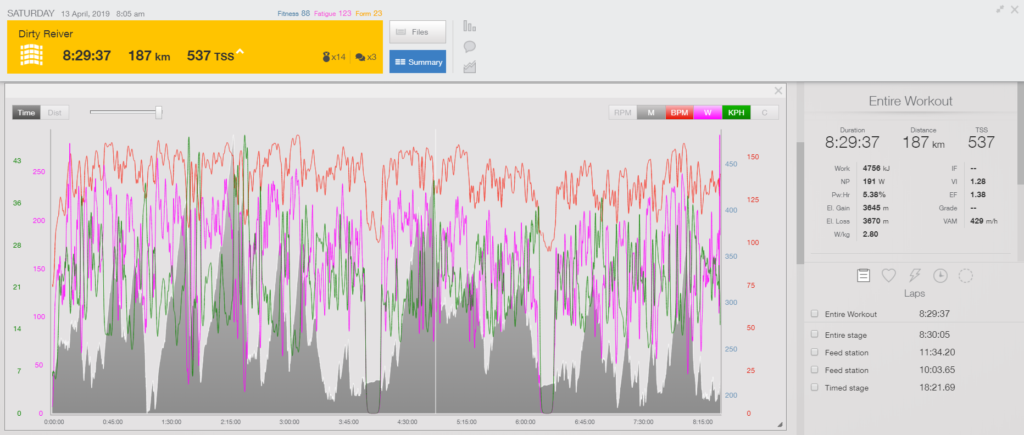 4 Major climbs –
#1 – 7.1 km @ 3 % = 22 mins @ 3.8 wpk
#2 – 8 km @ 3.3 % = 25 mins @ 3.8 wpk
#3 – 11.5 km @ 2 % = 35 mins @ 3.5 wpk
#4 Lauf special stage – 6 km @ 2.5% = 18 mins at 3.75 wpk
5 medium climbs ave between 3.6 and 4.3 wpk
Full results from the 2019 event
.
Our next adventure will be Battle on the Beach where we'll be writing and riding again.
.
Ciao Glyn